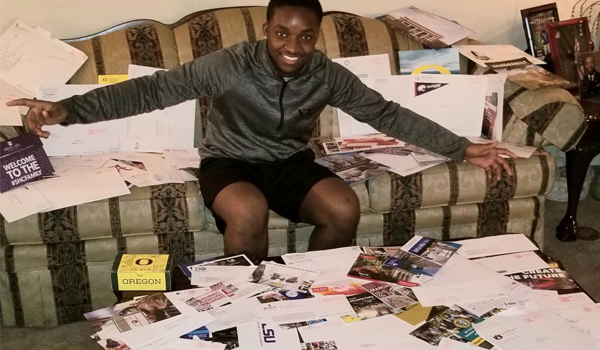 J'Eron Completes The Common Black College Application And Receives Millions In Scholarship Dollars
Applying to college is a time that most graduating seniors throughout the country are  experiencing extreme emotions that can range from frustration to exhilaration. Application deadlines, the pressure of having to meet the admissions requirements of their college of choice, ensuring that the colleges have received their supplemental documents and the omnipresent concerns of how they will pay for college can exacerbate a student's anxiety.
Holy Family Cristo Rey Catholic High School Salutatorian, J'Eron Pruitt of Birmingham, Alabama was able to mitigate his stress levels by completing the Common Black College Application (CBCA). Students are able to complete the CBCA and apply to over 50 Historically Black Colleges and Universities with the CBCA for only $20. The completion of the CBCA helped J'Eron to receive over $44 million in scholarship offers and 45 acceptance letters.
"As the scholarship offers exceeded a million dollars, my excitement began to grow, and I realized that all of the hard work I did over the years was paying off," says J'Eron. My mother and father were thankful for the time and effort they spent emphasizing the importance of education.
Both of J'Eron's parents attended Auburn University. Breaking with tradition, J'Eron has decided to attend Tuskegee University and double major in Architecture and Agribusiness.
J'Eron explained, "recent racial issues, like being looked at while shopping and being followed, that's not the right environment.
I could've gotten into a Predominately White Institution (PWI), but I didn't want that because of recent racial issues. Culture is important to me. That coupled with wanting to use my platform to promote the importance of HBCUs, is why I decided to attend Tuskegee University. J'Eron's success with the CBCA has inspired his friends to complete application.
"My advice for students who want to apply to college is to not be apprehensive, if you don't apply you're hurting your chances. Plan early and keep your grades up, time goes by so fast."